Add to Cal
Add any project time frame to your preferred calendar application with a single click.
What does this plugin do?
This add-on allows you to add any project time frame to your preferred calendar application with a single click. Once activated, a button will appear next to any project that has a due date specified.
There is also a setting to show the Add to Cal button on all projects, regardless of if they have a due date specified or not.
When the Add to Call button clicked, the project title, URL, start and end dates (if the project has any) and description (if it has one) will be added to your preferred calendar application.
How do I activate the plugin?
Activate the add-on like you would any other WordPress plugin. Go to Plugins -> Installed Plugins -> Add to Cal and hit the Activate link.
Once the add-on has been activated, you will see a new tab in Task Rocket settings call Add to Cal where you can change settings.
What calendars are supported?
Web calendars:
Google calendar
Yahoo! calendar
Microsoft calendar
Desktop calendars:
All iCal based desktop calendars including Outlook, Apple and others.
If you're not sure if your calendar application is supported, see if you can find it in this list of iCal based applications.
What options can be set with this add-on?
The admin interface allows you to specify which calendar option you'd like the front-end button to use, and the condition under which the button will appear. The calendar options are:
Google calendar (web)
Yahoo calendar (web)
Microsoft calendar (web)
iCal compatible desktop calendars (Outlook, Apple & others)
The iCal compatible desktop calendars option will show all choices on the front-end.
The condition to show the button: The option Show on all projects will show the Add to Cal button on all projects, regardless of if they have a due date specified or not.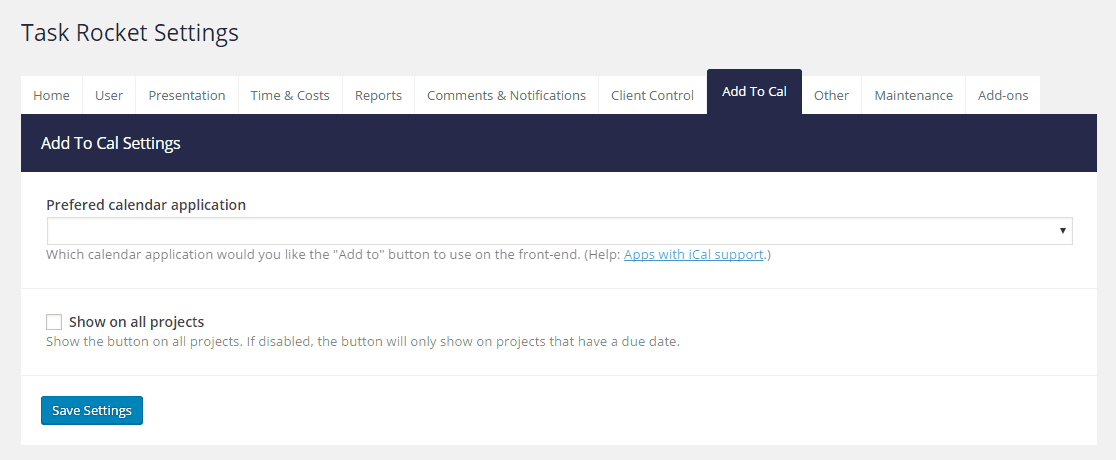 Why can't I see the Add-to-cal icon on a project?
In order for the Add-to-cal icon to show in a project, the project needs to have at least a due date.
The only time is this is not case is when you've enabled the 'Show on all projects' option, in which case the Add-to-cal icon will show on all projects regardless of if they have a due date or not.
Troubleshooting
If for some reason you are experiencing issues with the open graph meta tag values not being populated, you can try using the troubleshooting options.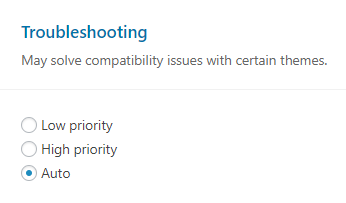 The will attempt to change the priority of the open graphite functions so that they are not interfered with by other plugins or themes.
Only use these options if you are the experiencing issues mentioned above.
Is the price of this plugin once only or per year?
That's up to you.
12 months after initial purchase you will have the option to renew your support license, but you don't have to.
If you decide not to renew your license after 12 months, your product will continue to work as expected without any restriction, but it simply will not be able to receive updates or be entitled to support.
Changelog
v3.6.1 (28th November 2020)
Fixed license check performance issue.
v3.6 (18th July 2020)
Fixed 404 issue when downloading ICS file.
Tasks can now be added to calendars.
Removed deprecated options.
Removed requirement for projects or tasks to have an end date before adding to calendar.
v3.5.2 (19th June 2020)
Compatibility with Task Rocket 4.9.9.3.
v3.5.1 (31st August 2019)
Rocket Apps plugin manager support.
v3.5 (20th July 2019)
v3.4.5 (31st March 2019)
v3.4.4 (22nd February 2018)
Presentation tweak for TR 4.8 compatibility.
v3.4.3 (12th August 2017)
v3.4.2 (8th April 2017)
v3.4.1 (6th March 2017)
Fixed issue where new line characters were not being honoured in calendar description.
v3.4 (11th December 2016)
Portuguese translation.
Fixed issue where project name would not carry across to calendar.
Presentation fixes.
v3.2.6 (1st October 2016)
v3.2.5 (27th September 2016)
v3.2.4 (17th September 2016)
Fixed broken iCal anchor.
v3.2.3 (16th August 2016)
v3.2.2 (31st July 2016)
Catalan translation updates.
v3.2.1 (16th July 2016)
v3.2 (14th July 2016)
V3.1 (9th July 2016)
V3 (27th March 2015)
Compatibility check for Task Rocket version 3.
V0.2 (28th July 2015)
Added support for Yahoo! and Microsoft web based calendars.
UI tweak.
V0.1 (23rd July 2015)