Email Report
Add any project time frame to your preferred calendar application with a single click.
What does this plugin do?
This add-on will let you schedule a report to be automatically emailed to you at a specified interval. The email you receive will look something like this: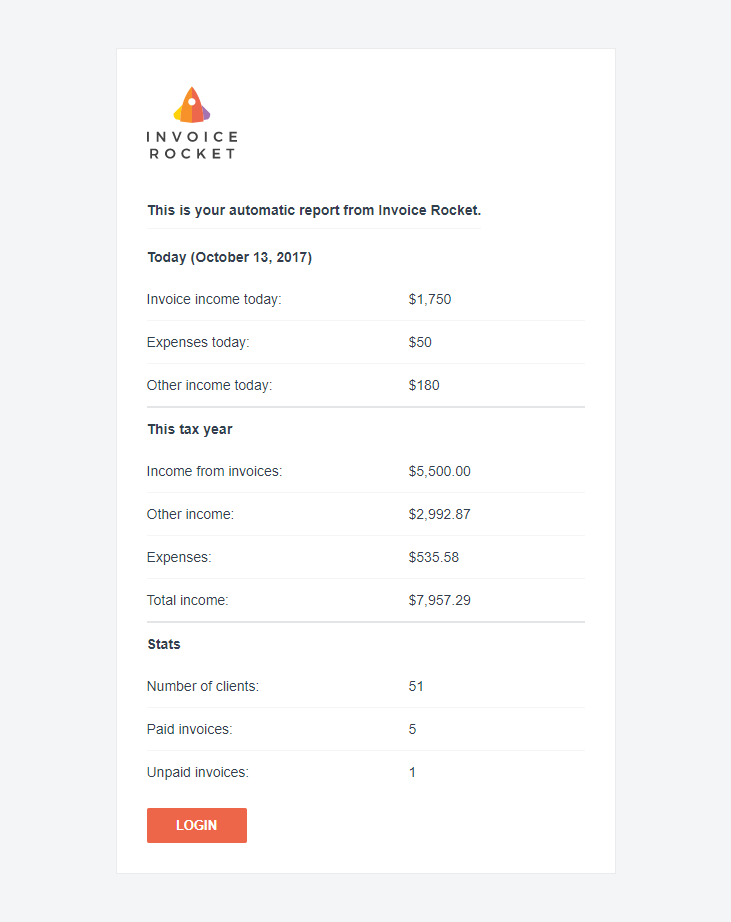 How do I activate the plugin?
Activate the add-on like you would any other WordPress plugin. Go to Plugins -> Installed Plugins -> Invoice Rocket Email Report and hit Activate.
Once the add-on has been activated you will see a new menu in WordPress admin called Email Report where you can set some options.
What options can be set?
The options that can be set are:
What time for the email to be sent
The frequency of the email (Hourly, once per day or twice per day)
What email address to send the email to
An optional secondary email address for the email to be sent to
An optional subject for the email
Sometimes the email arrives late or not at all
This is an unfortunate limitation of WordPress, where any sort of automation relies on the notoriously unreliable wp_cron() function.
For any automated function in WordPress to be reliable, your website needs to have frequent visitors. This is because every time someone visits your website, WordPress checks for any existing scheduled events that might be cued up and fires them if they are due, or if they are passed due.
For example: If you have an email report scheduled to be sent at 9am, and there is no activity on your website around that time, then the event will not fire – or more precisely – the email report will not be sent. But if there is activity on your website later, say 10:30 am for example, WordPress will check for any existing scheduled events and fire off any that were scheduled with the philosophy of 'better late than never'.
How to work around the wp_cron() limitation
Some hosting providers, particularly ones that specifically market themselves as WordPress hosts, may already have a solution in place for this limitation in which case you probably won't have to do anything.
But if not, the solution simply involves using a free 3rd party service like Uptime Robot to send a http request to your website every 5 minutes. A request from such a service is still considered activity on your website and consequently WordPress will be able to fire any scheduled events including the Email Report.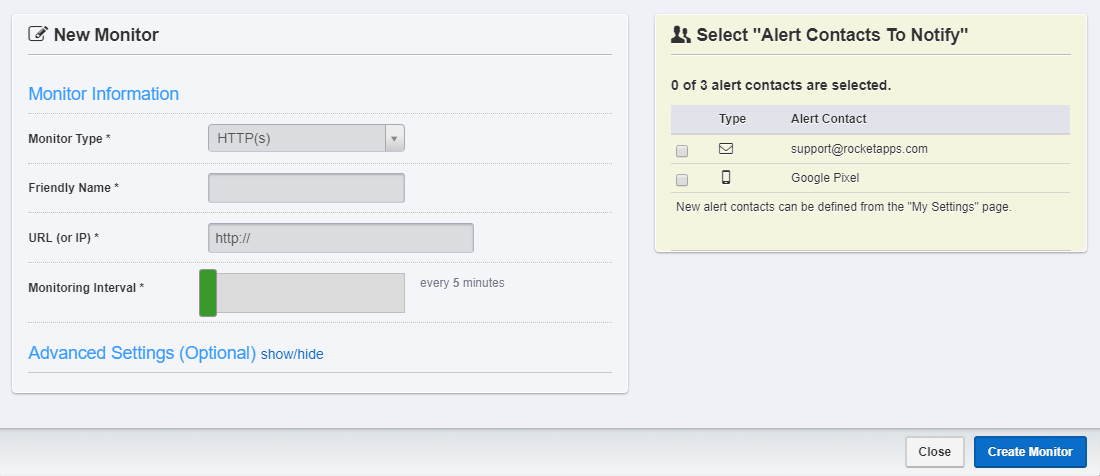 Check your timezone
If the Email Report is still arriving significantly late, check your WordPress settings to make sure you timezone is correct. Go to Settings -> General and scroll down to Timezone.
Is the price of this plugin once only or per year?
That's up to you.
12 months after initial purchase you will have the option to renew your support license, but you don't have to.
If you decide not to renew your license after 12 months, your product will continue to work as expected without any restriction, but it simply will not be able to receive updates or be entitled to support.
Changelog
v1.1.3 (28th November 2020)
Fixed license check performance issue.
v1.1.1 (31st August 2019)
Rocket Apps plugin manager support.
v1.1 (20th July 2019)
1.0 (14th October 2017)