Estimates
Create estimates and send them to clients for approval.
What does this plugin do?
This add-on allows you to create estimates and have them sent to clients via email. Clients will receive a copy of the estimate and can approve it also with a single click.
When a client approves an estimate it is automatically converted into an invoice.
How do I activate the plugin?
Activate the add-on like you would any other WordPress plugin. Go to Plugins -> Installed Plugins -> Invoice Rocket Email Report and hit Activate.
Once the add-on has been activated you will see a new menu item called Estimates in the Invoice Rocket settings page.
On the front-end you will also see a new menu item called Estimates, and also in the Create menu dialogue.
What options can be set with this add-on?
The options that can be changed include:
The validity period for the estimate
Disable the warning before sending an estimate to clients
Include a default set of notes for all estimates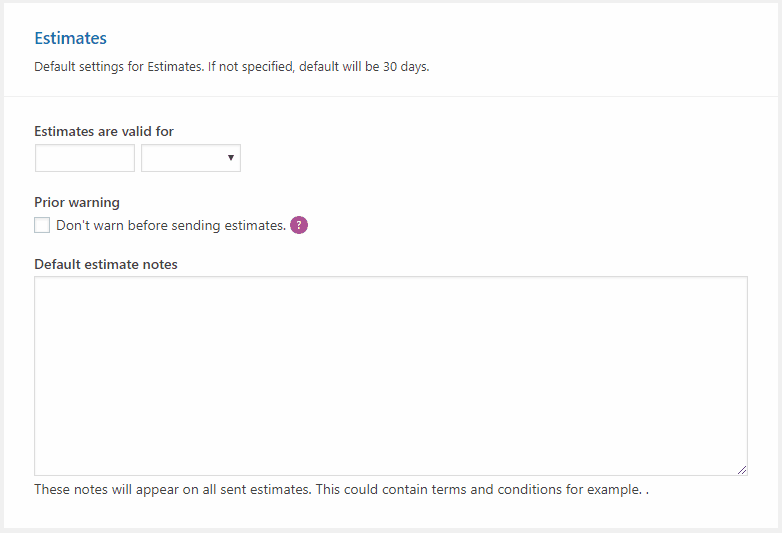 Don't warn before sending estimates
When the Don't warn before sending estimates option is enabled, you will not be given a chance to change your mind (via an alert) before sending estimates.
It is recommended you leave this option disabled so that you have a chance to make edits to estimates before you send them.
Can the default notes be changed on individual estimates?
Yes. While creating or editing an estimate, simply click on the Estimate Notes area and you'll be able to make edits.
Any edits you make will only apply to the estimate you are working on. This will not affect the default estimate notes.
Is the price of this plugin once only or per year?
That's up to you.
12 months after initial purchase you will have the option to renew your support license, but you don't have to.
If you decide not to renew your license after 12 months, your product will continue to work as expected without any restriction, but it simply will not be able to receive updates or be entitled to support.
Changelog
v1.3.4 (28th November 2020)
Fixed license check performance issue.
v1.3.3 (6th December 2019)
Fixed occasional issue when editing estimate notes.
v1.3.2 (25th September 2019)
Fixed estimate notes clearing issue after creating an estimate.
v1.3.1 (31st August 2019)
Rocket Apps plugin manager support.
v1.3 (20th July 2019)
v1.2.1 (3rd February 2019)
Changed 'Reviewed' label to 'Viewed' for language consistency.
Added print button to sidebar.
v1.2 (28th January 2019)
Added support for new sidebar UX.
1.1 (5th April 2018)
Fixed incorrect PHP operator
Added support for History Log add-on
1.0 (14th October 2017)