Expenses
Keep track of your business expenses.
How do I activate the plugin?
Activate the add-on like you would any other WordPress plugin. Go to Plugins -> Installed Plugins -> Invoice Rocket Expenses and hit Activate.
Once the add-on has been activated you will also see a new menu item on the front-end called Expenses, and also in the Create menu dialogue.
What options can be set with this plugin?
There is only one option for this add-on. Go to Invoice Rocket settings -> Presentation and there is a checkbox next to Remove the Expenses dashboard widget.
Can I include attachments on an expense?
Yes. Ideally you should include some proof of the expense, such as a receipt for example.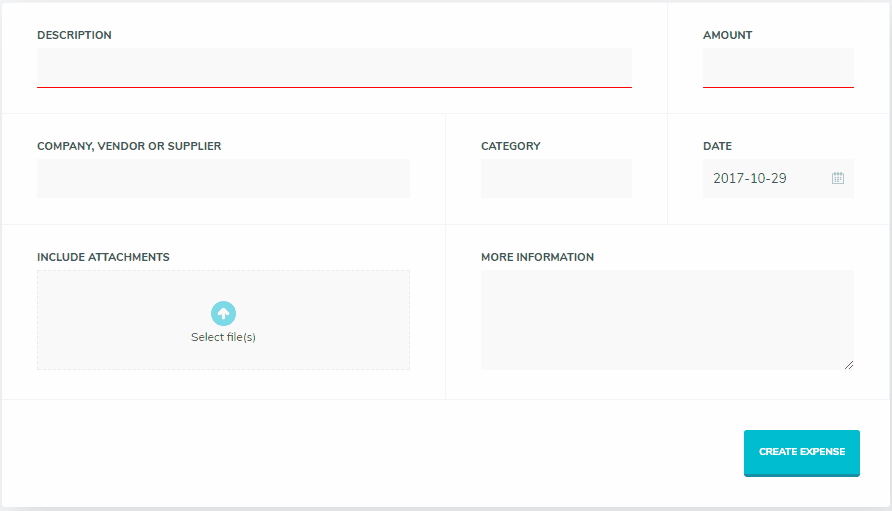 How can I duplicate an expense?
On the expenses page, locate the expense you want to duplicate, use the context menu and select Duplicate.
This will create a duplicate of the expense with the suffix (duplicate). You can edit the duplicate if you wish.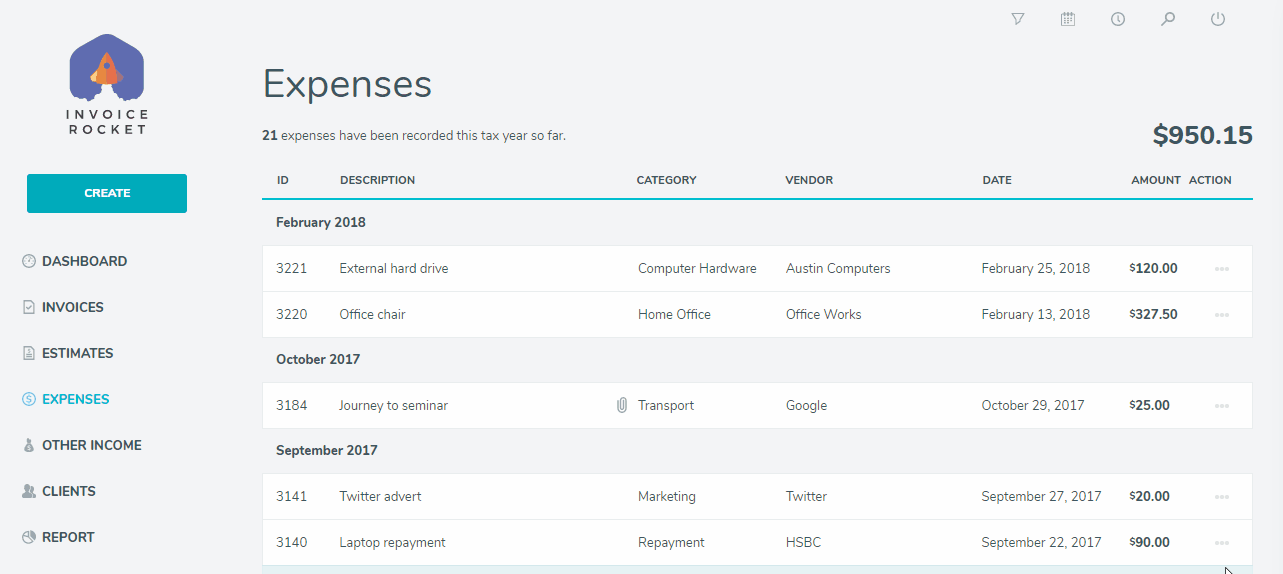 Is the price of this plugin once only or per year?
That's up to you.
12 months after initial purchase you will have the option to renew your support license, but you don't have to.
If you decide not to renew your license after 12 months, your product will continue to work as expected without any restriction, but it simply will not be able to receive updates or be entitled to support.
Changelog
v1.2.3 (28th November 2020)
Fixed license check performance issue.
v1.2.2 (7th April 2020)
Added quick filter when clicking on month name.
v1.2.1 (31st August 2019)
Rocket Apps plugin manager support.
v1.2 (20th July 2019)
v1.1.5 (12th March 2019)
Fixed attachments sidebar positioning issue.
Added CSS cache buster to front-end and admin.
v1.1.4 (27th February 2019)
Show expenses total on dashboard.
Added support for new Dark theme.
v1.1.3 (3rd February 2019)
Minor presentation tweaks.
1.1.2 (25th January 2019)
Fixed issue where duplicate expense would not show in correct month.
Fixed issue where updating expense date would not show in correct month.
Removed '(duplicate)' label from duplicated expense titles.
1.1.1 (5th April 2018)
Added support for History Log add-on
1.1 (24th March 2018)
Added ability to duplicate an expense
1.0 (14th October 2017)