History Log
Automatically logs events that occur while using Invoice Rocket.
What does this plugin do?
This add-on keeps a simple log of events that occur while using Invoice Rocket, such as creating invoices, adding clients, trashing items and more.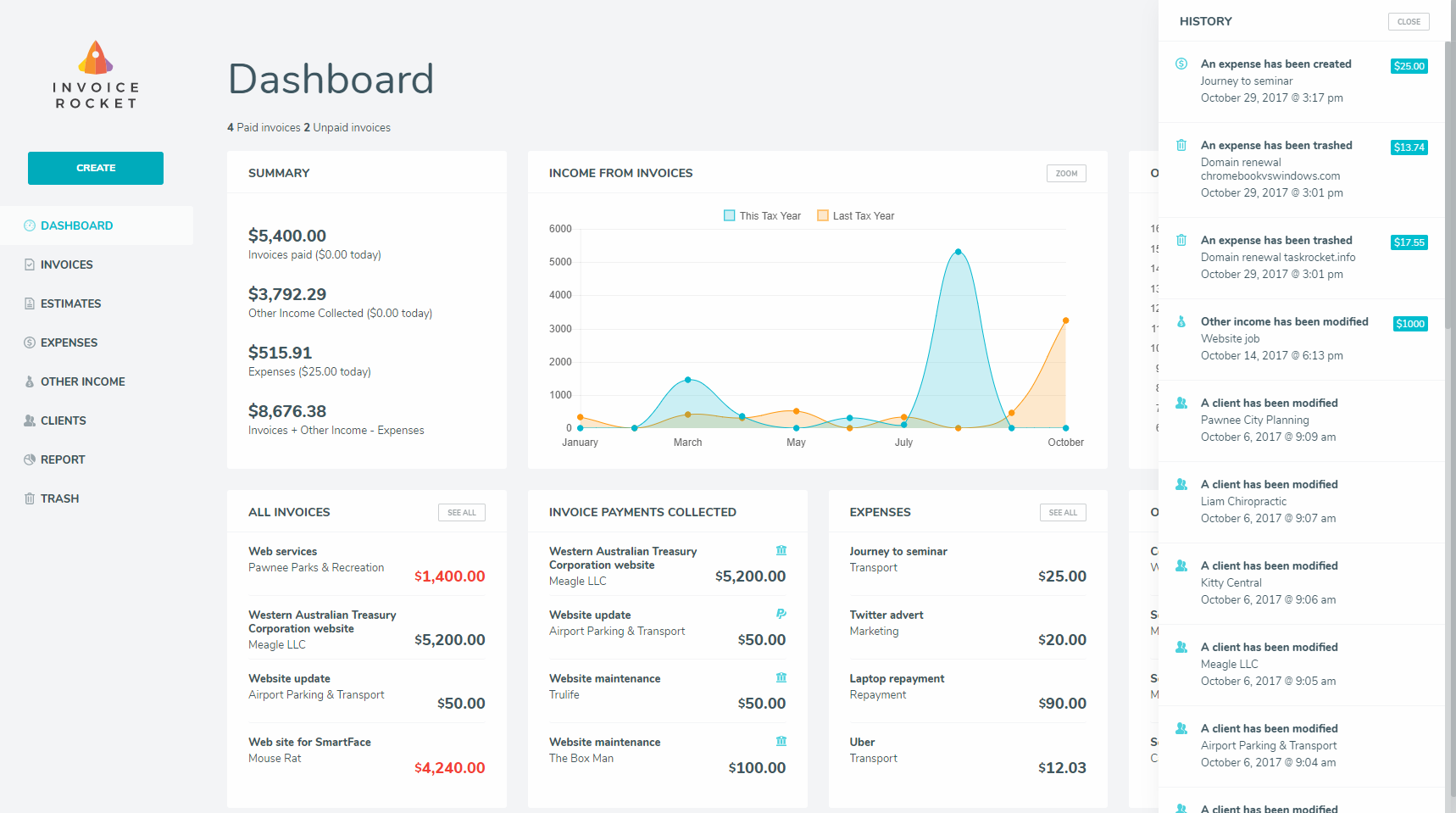 How do I activate the plugin?
Activate the add-on like you would any other WordPress plugin. Go to Plugins -> Installed Plugins -> Invoice Rocket History and hit Activate.
Once the add-on has been activated you will see a new menu item called History in the Invoice Rocket settings page.
What options can be set?
There is a single option to change the number of log entries to display on the front-end. Go to Invoice Rocket settings -> History and enter a new value.
What happens when I destroy an item?
Destroyed items will have their respective history completely wiped from the history log, so use with caution. Everything else in the log will remain unaffected.
The log will however record the fact that you destroyed the item.
Is the price of this plugin once only or per year?
That's up to you.
12 months after initial purchase you will have the option to renew your support license, but you don't have to.
If you decide not to renew your license after 12 months, your product will continue to work as expected without any restriction, but it simply will not be able to receive updates or be entitled to support.
Changelog
v1.2.3 (28th November 2020)
Fixed license check performance issue.
v1.2.2 (25th September 2019)
Fixed broken link in plugin manager interface.
v1.2.1 (31st August 2019)
Rocket Apps plugin manager support.
v1.2 (20th July 2019)
v1.1.3 (27th February 2019)
Added support for new Dark theme.
Minor UI tweaks.
1.1.2 (29th April 2018)
1.1.1 (11th April 2018)
1.1 (5th April 2018)
Significant re-engineering of core functionality
Dedicated History page
Fixed issue where faving an invoice would incorrectly log it as sent
History log sidebar is now an optional setting
1.0 (14th October 2017)