Stripe
Use the Stripe payment gateway to let your clients pay you with a credit card.
What does this plugin do?
This add-on will let you use the Stripe payment gateway to accept credit card payments from your clients. Your clients will not need a Stripe account or anything other than a credit card to pay you.
How do I activate the plugin?
Activate the add-on like you would any other WordPress plugin. Go to Plugins -> Installed Plugins -> Invoice Rocket Stripe and hit Activate.
Once the add-on has been activated you will see a new option for Stripe in Invoice Rocket settings under the Payment Types heading.
Fees
Stripe charges a small fee per transaction.
Note: Rocket Apps is not involved in any transaction and consequently does not receive any fees or payment when using officially sanctioned add-ons.
How do I configure this add-on?
Before you can start accepting credit card payments through Stripe you will be required to:
Go to Invoice Rocket Settings
Click on Payment Types
Tick the Stripe checkbox
Enter your Stripe API keys
Hit the Save Settings button
Which countries does Stripe work in?
As of April 2019, Stripe is ready in the following countries:
Australia
Austria
Belgium
Canada
Denmark
Finland
France
Germany
Hong Kong
Ireland
Italy
Japan
Luxembourg
Netherlands
New Zealand
Norway
Portugal
Singapore
Spain
Sweden
Switzerland
United Kingdom
United States
Please see the official Strip Global page for the latest information on countries supported as the information presented here may have changed since.
What happened to the Bitcoin payment option?
As of April 23, 2018 Stripe officially dropped support for Bitcoin transactions. Consequently the option to accept Bitcoin as payment has been removed from the Invoice Rocket Stripe add-on.
How do my clients pay an invoice?
When Stripe has been set up correctly, invoices sent to your clients will have a button in the right pane to pay by Credit Card. When they hit that button they will be presented with a modal to enter their credit card details.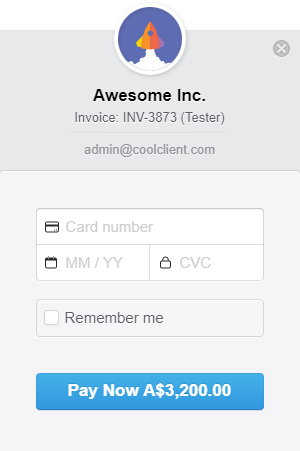 Test mode
If you would like to run the Stripe extension in test mode, simply enable the option in Invoice Rocket settings -> Payments Types -> Stripe.
While enabled, a message will appear at the top of all pages on the Invoice Rocket front-end reminding you that you are currently in test mode. Real payments will not work while in test mode.
Stripe has several different test credit card credentials you can use for testing purposes. Any test transactions you complete will show up in your Stripe dashboard when you switch over to Test Data.
Is the price of this plugin once only or per year?
That's up to you.
12 months after initial purchase you will have the option to renew your support license, but you don't have to.
If you decide not to renew your license after 12 months, your product will continue to work as expected without any restriction, but it simply will not be able to receive updates or be entitled to support.
Changelog
v1.3.2 (28th November 2020)
Fixed license check performance issue.
v1.3.1 (31st August 2019)
Rocket Apps plugin manager support.
v1.3 (20th July 2019)
v1.2 (6th April 2019)
Re-engineered with PHP API.
Added option to run in test mode.
Added option to specify the transaction description.
Updated translation files.
1.1 (28th April 2018)
Removed Bitcoin payment option.
1.0 (18th November 2017)